JavaRanch Advertising - Feed the cows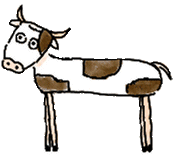 Your generous contributions to JavaRanch will help to feed skinny cows like this one!
In a nutshell, we have:
book/product/event promotions (free)
book/product/event announcements (free)
staff freebies (free)
general banners (ka-ching!)
regional banners (ka-ching!)
mailing sponsorships (ka-ching!)
direct mailing (ka-ching!)
keyword hot links (new)(ka-ching!)
bumper stickers (coming soon!)
And, of course, there is always space to dream stuff up.
Book/product/event promotions
This is probably the most powerful marketing you can do without giving us any money. For heaps of details, visit our book promotions page. And if you have something other than a book, don't worry. We've done this for products, classes and events too. It's just that most of the time, it is books that we push through this pipe.
The general idea is that we tell our users (via email) about your book/product/event and that we are giving one or more copies/tickets away. We add on that one of the authors/developers/instructors will be visiting with us for the next few days in one of our forums. After four days, we give away one or more copies/tickets of the product ("we" being "you").
Book/product/event announcement
Quick, completely free, and gets the word out more than you would think.
We have a forum called "Blatant Advertising" that does manage to get a helluva lot of traffic. Post all of your commercial announcements there. Make links to everything, put up pictures, go wild.
Staff freebies
Most of our staff has more than 5000 posts. Some have over 20,000 posts. If your stuff is an answer to some questions, sometimes one of our staff referring to it is worth a lot more than an advertisement. So, some outfits give the staff free copies of their commercial stuff.
Please note, that we don't wanna fool around with limited versions or stuff with time limits. The staff member is willing to get to know your product with the idea that if they like it, they get a full free ride.
Banners
The ole reliable!
size for standard banner: 469x60 and 40k. But you can make your banner any size and shape you want and I'll just prorate the cost per pixel. I just ask that the width be greater than or equal to the height.
animation is okay
must be topical
subject to approval
we will track the number of impressions and click throughs. You will have up to the minute access of your statistics.
your banner will be one of many in a pool of banner ads. If you like, we can have your banner run less frequently.
pricing depends on location:

top of all pages
bottom of all pages
the sweet spot (following the last post for a forum thread)

We can limit your banner to one forum
We can limit your banner to show only to users from one country
We have about 26.5 million page views each month.
We can now limit your banner impressions to a region. So if you want only our users in Colorado to see your banner, we can do that! Only our users in Australia? We can do that too! But! Please note that we do this based on IP and some users are connected to the internet in some really crazy ways - so figure that this has about 90% accuracy.
Mailing sponsorships
Our weekly mailings usually go out to over 100,000.
We used to allow graphic banners in our weekly mailings, but that requires us to do an HTML mailing that might be more likely to end up in a spam box. So now we just do text sponsorships of 300 characters or 500 characters.
Once in a long while we send out "The JavaRanch Journal" which goes to about 150,000. This is available only to previous advertisers and we will send out a notice when we are about to do this.
Direct mailing
We have not yet done this. The idea is that you provide me with an ad that you want to send out and I'll tell you how much I'll charge to send it out via our list.
We do not let our list out of our hands, so please don't ask.
Keyword hotlinks
We can convert every occurance of a key word on our forums to be a sponsored link to your site for one year. We'll look up how many occurances there currently are, charge you, activate the keyword, and then all past, present and future occurrances of the keyword will be a sponsored hotlink to your site. And by "future", well ... you know ... for a year!
How to get started?