March News
---
Shout out a BIG welcome to our new Bartenders. JavaRanch likes to reward those special people who have been a big part in making JavaRanch one of the most popular Java web sites. Here they are:
Gregg Bolinger
Dan Chisholm
Barry Gaunt
Max Habibi
Tim Holloway
Chris Mathews
Jason Menard
Michael Morris
Eric Pascarello
Jamie Robertson
David Weitzman
JavaRanch has been named as a Jolt finalist by Software Development Magazine!
For those who missed it, we have added a few new forums. Forums for security and testing have been added to the "Engineering" section. Forums for ANT and Resin have been added to the "Products" section.
Hey, we've added a Tack Room. No one should be out on the range without their vital JavaRanch supplies. T-shirts, caps, lunch bags, and mugs will keep you ready whether you are out on a cattle drive or just dropping in to the saloon.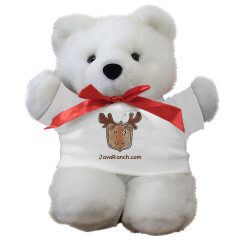 This month's special item is the JavaRanch Official Teddy Bear. Show them you care with the JavaRanch Teddy Bear!

As always JavaRanch is dedicated to providing you with the best source of information on Java Programming and Engineering.
by Thomas Paul